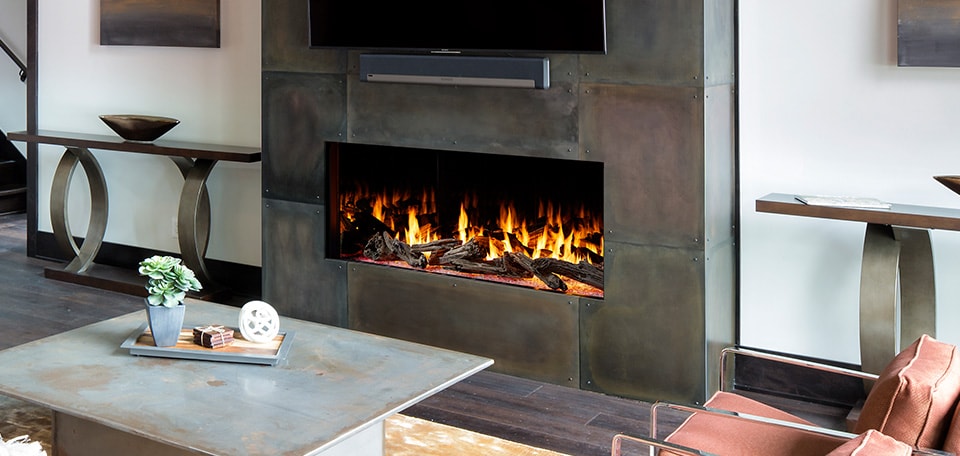 A fireplace showpiece with a captivating presence. Modern in form and luxurious by design the FOUNDATION Series was created with profound consideration for the whole space, bringing everything seamlessly together. Even your most timeless setting comes alive with a Foundation Series Single-Sided luxury fireplace, where innovative appearance meets modern design.
Captivating Presence
Big bold flames that elevate the senses
Clear view of the beautiful fire
Luxury by Design
Customize to your style
Multiple interior options
Available in 4', 5', 6' and 7' lengths in Single-Sided, See-Through, Bay, Pier
Can be connected to home automation systems. Contact your home automation expert for information specific to your home.
Model Specifications
FDN-7-SS
| | |
| --- | --- |
| Size: | 4′ |
| Width: | 53-3/4″ |
| Height: | 50″ |
| Depth: | 24-1/32″ |
| Rear Width: | 53-3/4″ |
| Framing Width: | 55-3/4″ |
| Framing Height: | 56″ |
| Framing Depth: | 25-1/32″ |
| Framing Front Width: | 55-3/4″ |
| Framing Back Width: | 55-3/4″ |
| Fuel Type: | Natural Gas |
| BTU/hr Input: | 60,000 |
| Viewing Area: | 50-3/16″ x 24″ |
| Ignition System: | HSI – Hot Surface Ignition |
FDN-6-SS
| | |
| --- | --- |
| Size: | 5′ |
| Width: | 65-3/4″ |
| Height: | 50″ |
| Depth: | 24-1/32″ |
| Rear Width: | 65-3/4″ |
| Framing Width: | 67-3/4″ |
| Framing Height: | 56″ |
| Framing Depth: | 25-1/32″ |
| Framing Front Width: | 67-3/4″ |
| Framing Back Width: | 67-3/4″ |
| Fuel Type: | Natural Gas |
| BTU/hr Input: | 80,000 |
| Viewing Area: | 62-3/16″ x 24″ |
| Ignition System: | HSI – Hot Surface Ignition |
FDN-5-SS
| | |
| --- | --- |
| Size: | 6′ |
| Width: | 77-3/4″ |
| Height: | 50″ |
| Depth: | 24-1/32″ |
| Rear Width: | 77-3/4″ |
| Framing Width: | 79-3/4″ |
| Framing Height: | 56″ |
| Framing Depth: | 25-1/32″ |
| Framing Front Width: | 79-3/4″ |
| Framing Back Width: | 79-3/4″ |
| Fuel Type: | Natural Gas |
| BTU/hr Input: | 100,000 |
| Viewing Area: | 74-3/16″ x 24″ |
| Ignition System: | HSI – Hot Surface Ignition |
FDN-4-SS
| | |
| --- | --- |
| Size: | 7′ |
| Width: | 89-3/4″ |
| Height: | 50″ |
| Depth: | 24-1/32″ |
| Rear Width: | 89-3/4″ |
| Framing Width: | 91-3/4″ |
| Framing Height: | 56″ |
| Framing Depth: | 25-1/32″ |
| Framing Front Width: | 91-3/4″ |
| Framing Back Width: | 91-3/4″ |
| Fuel Type: | Natural Gas |
| BTU/hr Input: | 120,000 |
| Viewing Area: | 86-3/16″ x 24″ |
| Ignition System: | HSI – Hot Surface Ignition |